White Subway Tiles: A Modern Kitchen Design Trend
These white subway tile kitchens showcase 5 fresh takes on a classic trend
Many homeowners choose classic white subway tiles to give their kitchens a polished finish. They're a versatile design feature, with styles and textures found in multiple materials like marble, glass, and ceramic. They also have many uses, most frequently as statement pieces in backsplashes, or as a complete wall design. Ultimately, white subway tiles have become popular because they offer a minimalist look that matches all styles and sizes of kitchens.
Here, we're sharing 6 Sweeten kitchen renovations that used white subway tiles in inspiring ways.
Sweeten matches home renovation projects with vetted general contractors, offering advice, support, and up to $50,000 in renovation financial protection—for free.
Cleverly-disguised kitchen cabinets


When Sweeten homeowners Tara and Brian decided it was time to update their home, they knew they wanted a modern atmosphere. They were done with their dated oak cabinets and cluttered room design and were ready for a more minimalist, open layout. To get there, they added a glossy white subway tile backsplash that extends through an entire wall. The subway tiles also double as doors to their hidden pantry, giving an otherwise incognito cabinet a sleek finish.
marble take on white subway tiles
Sweeten homeowner Romuald renovated his Elmhurst home to achieve an open concept cook space. In the kitchen, he opened up the walls to get a direct sightline across the ground floor. Before, his kitchen was dark and closed off. Now, a marble subway tile kitchen backsplash brings a clean look to the room.
chevron-patterned subway tile enriches a kitchen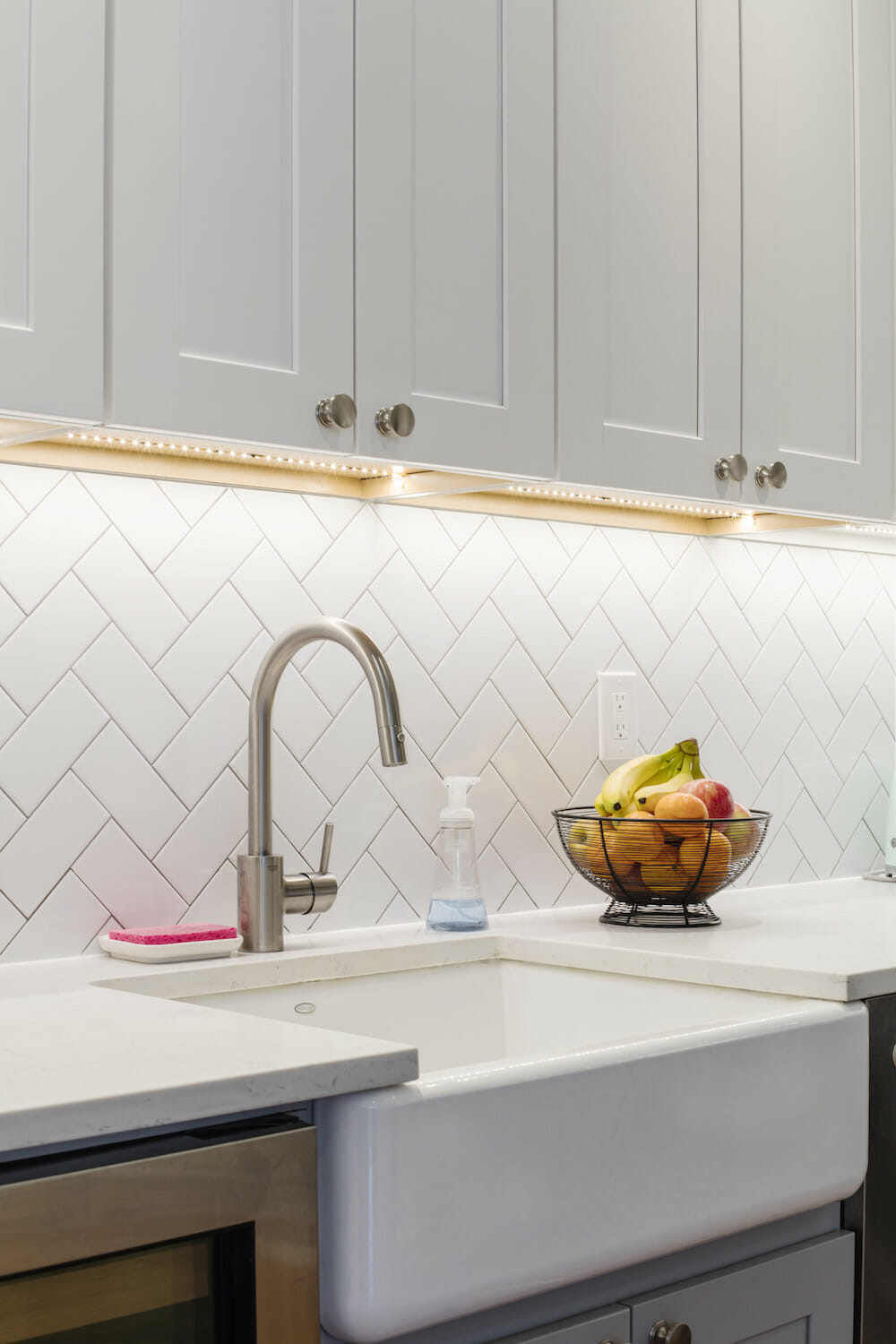 After 10 years of residency, Kim and Igor were ready to upgrade their Carroll Gardens kitchen. Kim "knew from the get-go" that she wanted a white kitchen. So, the main focus of their renovation was reducing the dull and uninviting feel while bringing in more dual-tone white & gray pieces. They added chevron-patterned subway tiles that had the right textured element to give them the modern and vibrant look they dreamed of. 
Glass subway tiles energize a small kitchen
Sweeten homeowner Jill wanted to renovate her 56-square-foot Yorkville kitchen after 20 years of use. Her goal was to update the design and personalize the small space to better suit her lifestyle. With help from her Sweeten contractor, Jill selected a subway tile for her backsplash in an elegant glass finish. This not only gave her kitchen an upscale, clean look but also visually expanded its small square footage.
white-tiled kitchen with a retro-industrial feel
Dan and Mike were inspired by their building's historical industrial architecture and decided to renovate their kitchen to achieve that same theme. In order to obtain this, they added classic white subway tiles that line the walls as a way to contrast the darker cabinets. This tiling brightened up the space and softened the surrounding retro-industrial aesthetic.
Feeling inspired by these white subway tile kitchens? Find a Sweeten contractor for your own kitchen renovation!

Open shelving lightens up tight corners, displays art, and keeps kitchen gear within an arms' reach. 
Sweeten handpicks the best general contractors to match each project's location, budget, scope, and style. Follow the blog, Sweeten Stories, for renovation ideas and inspiration and when you're ready to renovate, start your renovation with Sweeten
The post White Subway Tiles: A Modern Kitchen Design Trend appeared first on Sweeten.
Did you miss our previous article…
https://www.tampa-bay-homes-guide.com/?p=1167